WFMC - A Mobile Encryption Penny Stock Going BIG!


Wham, Inc. website.
Woodman Holdings Asset Management (WFMC - Pink Yield), is on the verge of completing their "Most Secure Phone on the Planet" mobile encryption app.

This is a game changer in our estimation and a solid candidate for either major future revenues and/or a HUGE buyout from the likes of a major technology firm and/or cell carrier.


Quick Disclosure:
Author: TraderG (StocksA' Editor in Chief)
Outlook: Short Term Long/Bullish
Alert Price: .003
Target Price: .02

Avg Daily Volume: 4,464,793
Date of Profile: 05/27/2015
We currently own a fairly large amount of restricted shares and a more nominal amount of free trading shares.  Our ratio is roughly 5:1 restricted shares to free trading.


Wham, Inc. Share Structure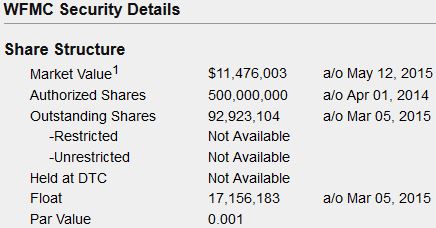 Good share structure with a tiny float.
Price and Share Data:

See OTC Markets image above for the most recent share structure data as of this writing. To date, there is no reason for us to believe this structure has changed.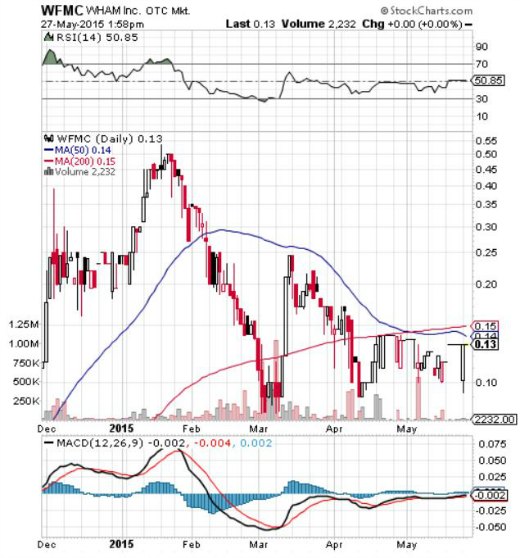 Catalyst:

WFMC is on the verge of completing the beta version of their new SEGO mobile encryption application and this will be the beginning of quite a beautiful thing! In addition to completing the beta stage the company has other holdings on the verge of very big things.

Their "Apparel Division" (R3 Sport) is in late stage talks with a large, possibly the largest, golf apparel company in Australia for a distribution agreement that may lead to large future revenues.

There is a pending S1 registration that the company has previously stated may be for a $1,000,000,000 offering under the recently passed JOBS Act...Don't be surprised if they pull it off.  Existing shareholders shares would convert at 1:1 (per the company).

In addition, their fine art division has art assets under management in excess of $100,000,000 and the company has stated in a past PR that the sale of the art may be an option to raise the money needed to fund the jobs on their plate...For an OTC traded company to have access to these types of assets is unique to say the least!
Anyone of these events could potentially bring massive attention and a flood of buyers back to the stock.


Why We Like It:

Our investment in Wham, Inc. is now valued at over $75,000 and we wouldn't keep that kind of money in a penny stock company that we didn't research the heck out of.
The above mentioned catalysts are just the beginning for this company, in our opinion, and we feel that there is significant upside potential well into the multiple dollar range.

Mobile encryption is an emerging sector, but a necessary one due to the popularity of mobile devices and the sensitive information that is shared daily, and conversely stolen daily, by millions of people. 
You don't have to look hard to find news on data breaches and identity theft these days.  The US Federal government can't even protect their data and key technology companies like Sony fall far short...This will become a hot, Hot, HOT sector and mobile encryption will be a NEED not simply a want!


People want their data secure and in our opinion Wham, Inc. will be the dominant player in the mobile encryption sector!


Take for instance, LifeLock, with their 3,000,000 subscribers paying anywhere from $10 to $30 a month.  There is a clear demand to protect ones personal information and the SEGO mobile encryption application can be used for free or there will be paid subscription options starting at only $5 a month.

Currently Wham Inc. is a small fish in a big pond, but they'll soon come to the table like a Great White Shark...Ready to devour the competition!


To our knowledge there is no mobile encryption software anywhere near that which Wham Inc. will be rolling out in the not to distant future.


There are several competitors in this arena (namely Silent Circle), but WFMC has encryption that uses up to 6,000 keys per minute and the competition may only use 1 key for an entire phone call. 
And with all that encrypting going on you'd expect delays in delivery, but not with this superior product...Messages, phone calls, etc. experience no latency issues.  Here is a press release with a bit more info on their mobile encryption software. 
The encryption software works to encrypt Calls, Text, Word doc, Excel doc, PowerPoint, PDF, Image, Video and audio files with the ability to send attachments as large as 100 MB in size...That's some powerful stuff!

WHAM's new IT team has analyzed Wickr, Redphone, Cryptocat, Cyberdust and Silent Circle against its new military grade mobile encryption software and WHAM's technology overwhelmingly prevailed.
Launch of its Mobile Encryption Network PR


Management

Management of the company is top notch and we have little concerns there will be any issues here.  The company is led by CEO Israel Vasquez, COO Theodore Fotsis, Director Abigail Santangelo-Peurifoy and Director Sid Saldahna.

That said, they have had issues with time frames in the past, but they have learned from their mistakes and they are now either more conservative with time estimates and or avoid giving ETA's altogether.

We stay in regular contact with management, on a weekly basis, and they always seem focused and consistently determined to launch a successful and top notch mobile encryption product.

They have also demonstrated in the past a keen awareness of shareholder value in all that they do.  They have raised money in the past by way of private offerings with the issuance of "restricted" shares that will only be free trading after the S1 registration process is complete.  Clearly a knowledgeable move compared to raising funds via any type of dilutive, toxic financing.
To our knowledge, management does not receive salaries.
Additionally, they have been assembling a team of top talent to develop their platform which includes their announcement welcoming Josh Neyer (a seasoned IT pro) to lead the development team. 


What to Watch For:

We don't have the normal fears of dilution or an offshore scam that many penny stocks bring to the table, but our major concerns would be delays. 
Management is no doubt working hard, but this is a big project and has yet to be tested under a heavy user load.  Fortunately they have the likes of Josh Neyer to get this off the ground, but even that is no guarantee of a smooth launch.  These potential delays are not fatal in our opinion, but can make for a frustrating ride. 
Additionally, liquidity is an issue at this stage and this is a long term play.  This does not make for a great trading stock at the moment as you can find yourself "stuck" if you need to get a large position sold in a hurry.  That said, we feel future liquidity will not be much of a problem once SEGO has been launched.
Conclusion: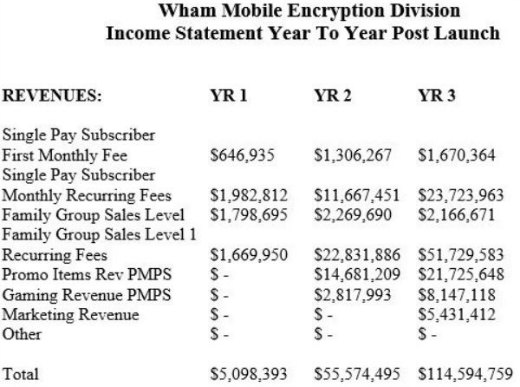 As with all start up companies, there comes the inherent risk of outright failure, but we do not believe this is a likely outcome with Wham, Inc.  The exclusive licensing rights they've negotiated with UPONUS for their mobile encryption has inherent value and there will be buyers ready to snap it up.
We ultimately believe that the company will be approached by the likes of a Google, Apple, Microsoft or large cell carrier at some point in the future for a buyout.  We are not sure if this might happen pre or post IPO, but feel this may be the best route for the company to go.
Of course, we feel that their SEGO mobile encryption app will be hugely successful without a buyout, but this will take time, money and some aggravating setbacks. 
They've projected $100,000,000 third year annual revenues and we feel that number may a bit of an underestimation.  We feel that just in the United States alone they could reach the three million subscriber mark with an average monthly revenue of $5 per subscriber.
This would put their monthly revenues at $15,000,000 with the annual revenues at closer to $180,000,000.  We believe they can achieve the fifteen million dollar monthly revenue mark by the end of the second year from launch (a full 24 months).

The companies marketing will be instrumental to their near term growth and it appears that their recent agreement with the marketing firm Strategia, will help immensely.
One thing is for sure...this mobile encryption penny stock, and encryption in general, is about to reach a whole new level with the SEGO launch.  This stock should be in for a wild ride through the summer and into the end of the year! 
Currently WFMC's share price appears to have bottomed out in the .10 to .13 range and we feel it is a steal at these levels.  With a successful SEGO launch our end of year projection is on the low side over $2 with $3 a share in reach.  Our three year projection tops $10!


Penny Stocks

›
Stocks to Watch
› WFMC A Mobile Encryption Penny Stock