GNPT the Recycling Penny Stock That's Going to CRUSH the Market!


Green Parts International (GNPT - Pink Current) could literally crush the market!  This recycler brings $10M+ annually to the table and trades for under a penny!  Hmmmm...Yeah, we're in!!!

You, them, we, whoever wants to profit, searches long and hard for an opportunity like this and you just don't find these everyday.  A company with over $10,000,000 in revenues annually and in business for roughly 15 years...WoooHooo!  Today's the day, your the one and GNPT is the place.


Quick Disclosure:

Author: TraderG (StocksA' Editor in Chief)
Outlook: Short Term Long/Bullish
Alert Price: .003
Target Price: .02

Avg Daily Volume: 4,464,793
Date of Profile: 05/27/2015
Our position is decent, but not large and we will continue to add on  any weakness in the near future.  That said, we will (as soon as other positions free up) buy up every available share we can under .004!

GNPT - Green Parts
Price and Share Structure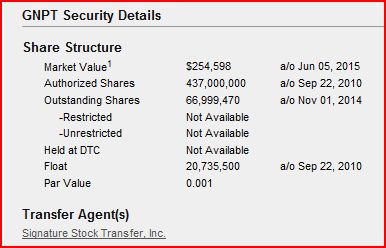 These numbers have changed per Green Parts most recent 10Q and now stand at OS 126,371,707 on 03/31/2015.  Per certain message board posters, who claim to have contacted the stock transfer agent on 06/01/2015, the OS is 149,400,376 and the float is 102,467,272.  These numbers may continue to increase.


As you can see the chart shows a lot of recent action, some excellent intraday trading opportunities and what appears to be a nice sideways channel that it is trending in. 
There is also a short term up trend line that gives support at .0027-.0029 with a fairly solid support line at .003.  The most recent close was right at the Fib 38.2% and we may see some weakness on Monday down to the 61.8% mark (almost its exact low of the day on 6/5/2015) and from there it may be off to the races.


Catalyst/Why We Like It:

To say the least, a lot is in the works here.  Let's start off here with a 30 minute interview of the GNPT CEO...A lot is covered there and you can clearly here the confidence in the CEO's voice.
Most times when a CEO talks like that on the OTC its a bunch of lies and other nonsense spewing out of their mouths, but this guy has been there from the beginning and taken a start up company from ZERO revenues to 10-15 MILLION per year...

This is not your typical OTC CEO!

In the interview there are several key points covered that of are interest to us:
The Green Parts/GNPT CEO feels a fair valuation for the company is .20 per share.  This doesn't mean too much to us normally, because all penny stock CEO's think their company is worth a gazillion times more, but in this case this guy had this stock trading at .20 a share for roughly 15 months straight just recently.


He talked of a share buyback...we'll believe it when we see it, but this guy may be the real deal.


He talked of M&A's that might increase the company's revenues to $100M to $150M in 18-24 months.  For most OTC CEO's this is a total sham, but this guy has taken a $0 company and turned it into an already $10-$15 million dollar company already, for the last decade.  This CEO and this company have a proven track record which means he is probably legit!  This is EXTREMELY uncommon in the OTC.


They talked about the market cap being roughly $300,000 dollars when their EBITDA, after their expected acquisition, would be nearly $6,000,000...Ummmm...WAY undervalued is an understatement!!!


Discussed a partnership/investment, to some degree or another, with John Deere, Kia and Hyundai.  Also mentioned some overseas investors...Might it be one of these?


Discussed a $10M line of credit, at a high interest rate, and a much more favorable $5M SBA loan to clean what has been borrowed to date.


With how extremely undervalued Green Parts stock is, news about any one of these events above could trigger a mammoth explosion!  This is an exciting opportunity in our opinion and one with fairly limited downside in the short term.
Seriously, look at the market cap...It is only $250k and GNPT hauls in well over $10,000,000 a year!  Wow!


What to Watch For:

With all the positives out of the way and too much CEO hype, let's talk about the pitfalls with GNPT's stock.  The reason for the collapse in share as of late is due to several factors, leading us to ask several questions...
The company got mixed up with Asher and is now and/or recently finished going through a dilution phase.  The CEO claims he didn't understand how a company like Asher worked, but we have to call him out on that...

Seriously Asif (CEO)?  You are the CEO of a multi-million dollar a year publicly traded company and you don't know how convertible debt works???


Why Does a multi-million dollar a year company need to solicit the services of a company like Asher to raise a mere $64,000?  Maybe it's due to the limited $24,545 they had in the bank at the end of last year...Hmmmmm.


The company shows a net loss for the last two years and it begs the question of whether this CEO has any clue what he's been doing over the last 14/15 years or if he has been riding this pony for as long as he can...How do you consistently pull in 8 figures a year and still lose money?


What is his salary?  Limited employees and somewhere near $300,000 per year in wages is all we see, so for a company that consistently loses money, how much do you make Asif?


Conclusion:

This is a stock that is certainly in play and we expect to make a small fortune trading GNPT, but all the glitz and glamour on the surface may be hiding something dark and ugly just beneath the surface.  We are certainly going to put our hats in the ring, we already have, but we suggest playing this gem with a bit of caution...
We don't particularly care for the CEO and question his ability to run this company successfully...did he just stumble into an opportunity in the right industry, in the right place at the right time?  Or is he a legitimate businessman who can turn this thing around?
Quite frankly we don't care!  All we care about is the action this stock will generate in the days/weeks to come.  The Asher dilution "should" (we stress should) be done, or be about done, and no matter how legit the CEO is there is a great back story here and we feel this stock (minus heavy dilution) has a long way to run.
We see no reason why this stock does not find itself back in "at least" the .02 range, for a roughly 500%+ gain, and with some great press releases, maybe we are proven wrong about the CEO, it may soar much higher into the .07+ range...
Time will tell, but at this point, a mere .0038 for GNPT shares, we are buying all we can eat!


Penny Stocks

›
Stocks to Watch
› GNPT Recycling Penny Stock