Penny Stock Promoters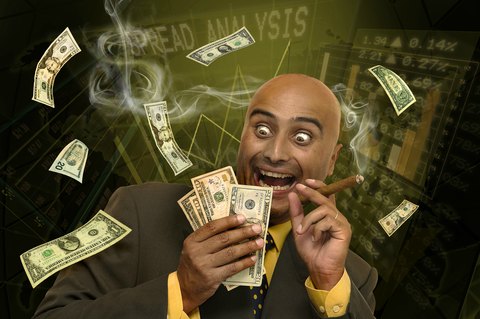 Many think of penny stock promoters as simply, scammers or cheats...and some are!  But, I think the legitimate ones are great for the OTC market as long as traders understand what the majority of them really do.

Penny stocks move on hype!  Whether that hype is created by a press release, the promise of a future press release, message board delirium, unusually high volume or penny stock promoters, it's all the same...Hype!

The key to maximizing profits is to learn what to do with the hype and how to effectively trade in and out of a stock that is being hyped either organically or professionally by a promoter.


If penny stock promoters are bad, then I guess you and everyone else that's ever given a family member or friend a "hot tip" is bad too!


Stock promotion goes on all the time and even you, yes you, may have promoted a stock at one time, whether you knew it or not.  If you've ever owned and really liked a stock you may have promoted it to family or friends and given them a little pitch about what a great opportunity this was.
Telling your family, friends or posting on a message board things like, "Big things are going to happen, buy them up while they're so cheap...!" makes you guilty of pumping or promoting.  Do you feel like a criminal?  
Even the big boy stock brokers that you see on business channels on big cable TV networks are big time stock promoters.  The company they work for owns shares in what they feel is a quality company and they want to share it with the world, so the stock price goes up and they and their clients benefit from the increased exposure, liquidity and hopefully, for them, the share price. 
Now, if you've ever promoted a stock to family or friends your motivation might have been different in that you wanted them to share in the wealth with you, but if you convinced them to buy you've also increased liquidity and more than likely the share price with your great sales pitch.
Now don't get me wrong, in the penny stock world, if stock promoters are the insiders, or closely tied to them, and are promoting a company they know has zero chance at a successful future, while selling millions of shares off into the public, then I would agree that they are simply scammers or cheats.  This would certainly classify as an illegal "pump and dump."

On the other hand, many penny stock promoters are simply paid a few thousand dollars to cover the stock from 1-3 days and the people that paid them sell into the buying frenzy.
What Do Penny Stock Promoters Do?

Simple.  They are hired by either the company themselves or a third party shareholder to bring liquidity, i.e. buyers, to a publicly traded companies stock. 
Sometimes they are hired by a company to bring legitimate exposure to their stock.  The company is looking to find new long term investors to help support a higher share price so the company has more leverage and/or is maybe looking to uplist.  Most often, however, it is so somebody with a fairly large chunk of shares can sell!
Front loading (or front running) is simply a promoter buying shares on the open market prior to them "pumping" the stock to their subscribers.  It is illegal!

Some penny stock promoters are paid with shares of the company they are to promote, while some will not be hired, but will front load shares and others are simply given cash for their efforts.

What Are Their Efforts?

 In today's tech friendly world, this usually consists of putting together a juicy, hype filled email newsletter that is mailed out to potential buyers on their list.  Many are now also offering text alerts.

Often, for larger penny stock promoters, they will send out these emails in waves.  Wave 1, goes to a third of their list to get that initial jump right at the open; Wave 2, goes to the next third sometime shortly after the open to keep the buying pressure on and Wave 3, goes out to help the stock recover after the initial drop.  Sometimes these waves will take place over a couple of days.
Another way this is done is with Wave 1 consisting solely of digital notification to all email/text subscribers and then this is followed up with a physical mailer, usually a very nice 5-10 page color sales style pamphlet...Something that looks really official!
For the smaller penny stock promoters, they'll simply build as much hype leading up to their pick the days/night before so that their much smaller list is on full alert, first thing at the open, to take advantage of this "once in a lifetime opportunity."
A successful campaign for penny stock promoters (this is a classic pump and dump) would look a bit like this chart of GOFF (now trading for .0013):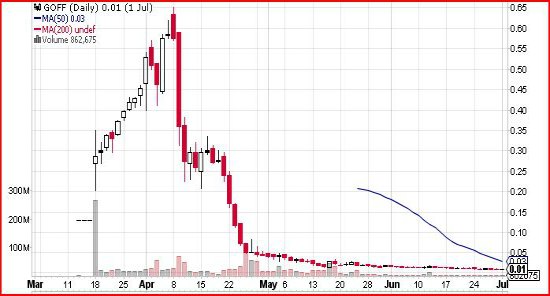 The stock more than tripled within about two weeks and eventually the buzz from the initial "hype high" wore off, while the selling continued from insiders and loooook out belooooow...

There were over 250 million shares traded between .20 and .35 on the first day Awesome Penny Stocks promoted this!  That's a lot of money!  Then look at the subsequent crash down below a penny, never to recover again.
---
What You Should Never Do!
There are five things that YOU should Never do...
1. Never believe the hype!
I don't care what's being touted by penny stock promoters... "Ground breaking technology," or "Entering billion dollar sector," or "FDA approval is imminent," and on and on!  Don't believe it for a second.
2. Never buy at the market open!
Never buy a promoted penny stock at 6:30am EST when the market opens!  You have to observe and see how this is going to be a tradeable, most importantly profitable, opportunity.
Notice I didn't say "if" this is going to be a tradeable opportunity.  Most all of these promotions, as long as there is enough volume, will create an opportunity for a profitable trade at some point, but you have to wait patiently for that right time.
Next, there is simply too much chaos going on at the open, where a stock might spike up 30% in seconds, you choose (erroneously) to buy in and watch it drop 60% in half the time.  You have to see if the sellers are going to simply dump all at once or if they will sell over time.
Do not forget, you are not only dealing with possibly the promoter, whoever hired the promoter and/or the company selling, but you're dealing with other traders as well!  If they all sell at the same time, the stock can tank quickly!!!
Let the trade develop and find the bottom before you put your money in...
3. Never Chase!
Chasing a stock is basically a panic buy.  "Oh my gosh, this thing is on fire...Look at it just going up, up and up...If I don't get in now I might miss out on 100% gains."
Patience is key.  Maybe it does go up another 100%, but more often than not it's going to turn down, at least for a bit.  If you miss it, well so what...Move on to the next and forget this one...immediately forget it and move on if there are no other opportunities to profit with this one.
4. Never get greedy!
As the old saying goes,


Bulls make money, bears make money, but
HOGS get slaughtered!


Don't be a hog! 
Take your fair share of the profits and get out.  If not out completely, then at least take some off the table.  When you have more experience under your belt and are able to thoroughly understand the dynamics of the OTC and how penny stock promoters work, along with some Level II and charting skills, then you can push the envelope a bit more.
A 20% profit in 30 minutes is an outstanding return!  401k's are proud to offer 9% annual returns to investors...More than doubling that in 364 less days is exceptional!
5. Never Go "All In!"
As with poker, if you go all in, you stand to lose it all.  Depending on the size of your account consider only going in for 20% max.  Especially important when you are new to this.

---
What You Should Do!

1. Keep Your Emotions in Check!
It's exciting to watch the stock market, especially a penny stock that is getting promoted with lots of action, but you have to put that "kid in a candy store" type mentality aside.  You're here to make money and that's the bottom line!
2. Study Up on Charting!
We'll get into this more in a later lesson, but at a minimum you must understand support and resistance lines.  Also, as we've covered before, know about average daily volumes and how liquidity is so vital to being able to trade successfully.
3. Have a Plan!
What type of profit (%) do you want from this trade?  What price is that?  What is the max loss you can stand?  What price is that?  How much cash are you going to put into play?  Will you stick to your plan?
When the action is hot and heavy and you've got skin in the game is not the time to be figuring this stuff out.  Several of the questions above can be answered the night before and some will have to be answered as you watch the action play out. 
Maybe the night before you can decide I want to trade this penny stock promoters promo of WXYZ stock with no more than $500 and I'm looking to make 25%, but if I buy and it drops 7%, then I'll sell.
The day of the trade while looking at the stock trading at .13 and you feel there is good support at .10 so if it's tested and holds, then you'll buy 5,000 shares at .10 looking to sell for a profit of 25% at .125, but if you buy at .10 and it drops to .093, then you'll sell for a small 7% loss.

Penny Stock Promotion Resources

There are three excellent resources online to check to see if a stock is currently being promoted or if it has in the past...If it has, how many times and by what penny stock promoters.  Here's a list in order of my favorites:
PumpandDumps.com (Some great articles here)

It's important to note that even the top two are in on the penny stock promoters game.  Number 3, Pump and Dumps was just set up by individuals who apparently got burned trading them and watching others unknowingly get burned by them.

Conclusion
I hope that you now have a good feel for how penny stock promoters operate and what you should keep an eye for if you plan to trade promoted stocks.  Be extra cautious and definitely pay attention to those things I suggested that you never do!  Let's get into the fun stuff and move to Penny Stock Trading Strategy.


Penny Stocks

›
for Dummies Guide
› Promoters